As you already know by now, the basement floor of the houses is under the ground level. And thanks to gravity, the water automatically finds its way towards any area below ground level. So, the cellar remains more vulnerable to moisture and water.
Even though we knew this fact, we did not bother to take adequate measures. And that is where our home started to face instability issues. The walls were not free from seepages, and it soaked moisture pretty severely.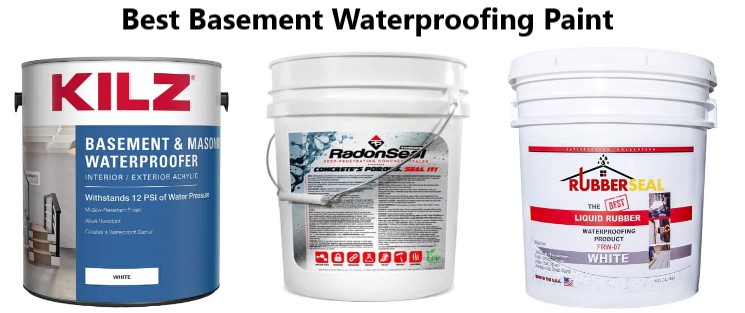 After discussing the issue with a professional, we found out regarding the best basement waterproofing paint options. And we wish that we sat down with the decorator before all of the damages occurred because after painting the walls with one of those options, we faced no leaking, moisture, and seepage issues at all.
Top Rated 7 Best Basement Waterproofing Paint Options Reviews for Basement Wall & Floor
Even though plenty of paint options out there will claim to properly waterproof the basement, most of them fail to create a proper seal. Well, that is why we have compared and tested the top-rated options intensively. And from our research, these stood out the most:
1. KILZ Interior/Exterior Basement and Masonry Waterproofing Paint
Want to seal the porous concreate with a premium formula? Then you do not really have to look any further because this option from KILLZ checks that criteria.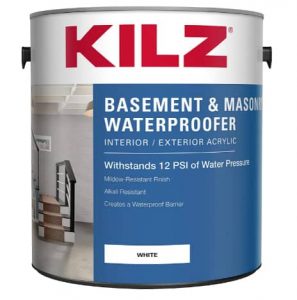 Now, you might be wondering what makes this formula premium? Well, it utilizes nanotechnology, which will create a barrier to stop the water infiltration issues. Also, it creates an alkali-resistant coating that will make it durable and long-lasting.
The application process is pretty simple too. There will be no need to do too many coatings because two will be enough for creating the waterproof seal. And each tub contains one gallon of the formula.
Furthermore, it does not take that long to dry up. In fact, it dries to the touch in just an hour. Also, you can recoat in about four hours.
Pros
Uses nanotechnology
Creates an alkali-resistant coating
Long-lasting
Dries up exceptionally fast
Can be recoated in 4 hours
Cons
Tends to get chunky pretty easily
Not that easy to mix with primers
Why Should You Purchase This Product?
This formula utilizes premium technology to offer a long-lasting barrier. And it does not take that long to dry up as well.
2. Liquid Rubber Concrete Foundation & Basement Sealant – Waterproof Coating
While there are plenty of waterproofing paint options out there, not all of them can prevent cracks and tarings. But if you were looking for one with those traits, opt for this one.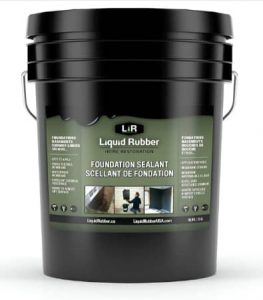 To start with, it is highly flexible. It has more than 900 percent elongation in terms of the sealing material. That will prevent adhesion failures, which will eventually prevent taring and cracks.
The formula is environmental-friendly too. It does not contain any solvents, nor does it have any harmful elements. For that reason, the odor level is exceptionally low.
Additionally, it is pretty easy to apply. There will be no need to mix. Also, it has a higher spreadability rate.
Pros
Can prevent adhesion failures
Prevents cracks and taring
Environmental-friendly
Odor level is extremely low
Does not require any mixing
Cons
Can get sticky quickly if the tub is left open
Why Should You Purchase This Product?
It can prevent adhesion failures, which eliminates the worries regarding cracking and tarring. Also, it is environment-friendly.
Read Next: Guide on How Much Cost to Paint a Pool
3. Rubberseal Liquid Rubber Waterproofing and Protective Coating
On the lookout for something that comes in different color options? Well, in that case, keep this one on your consideration list.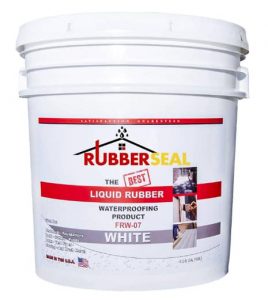 The paint comes in four different color options. It will be possible to purchase it in white, matte black, dark grey, and light gray. So, you will not have to worry about ruining the decorative factor of your basement.
Moreover, the spread rate of the formula is pretty impressive. It is rated at 60 square feet per gallon. And as the formula has a low level of VOC, the odor will not be that bad either.
It even has self-healing capability. That will enhance the overall lifespan. Also, it is highly resistant to UV exposure and aging.
Pros
Comes in four color options
Has a 60 square feet per gallon spread rate
VOC level is pretty low
Does not have an odd odor
Boasts self-healing capability
Cons
Takes a bit longer to cure properly
White color option can turn a bit yellowish
Why Should You Purchase This Product?
The sealing formula is available in four different colors. And the self-healing capability of this one is pretty uncommon.
4. RadonSeal Standard – Deep Penetrating Concrete Sealer 5 Gallon | Permanent Results
Most of the sealers out there are easy to apply. But one thing that most of them lack is penetration power. That is where this offering from RadonSeal stands out.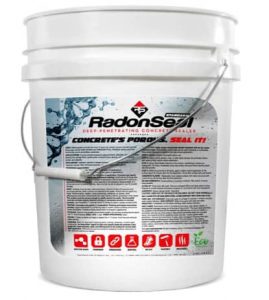 The thing that makes it stand out the most is the penetration power. It can penetrate deep into the concrete. And it will create the seal from inside out. Also, the odor level is extremely low.
Besides that, like some of the other offerings, this one is environment-friendly too. It utilizes non-toxic elements, which makes it retain zero VOC level. Also, it is non-flammable.
It is easy to apply too. You can spray it or use a roll-on brush to paint the surfaces of the basement. Also, there will be no need for reapplications as the formula is pretty much permanent.
Pros
Has a high penetration power
Creates a seal from inside out
Contains zero VOC
Easy to apply
Does not require reapplications
Cons
Has a long curing time
Color of the formula is a bit yellowish
Why Should You Purchase This Product?
It has deep penetration power, which will create a strong barrier. Also, it does not contain any VOC, nor does it have any harmful elements.
5. Zinsser & Co 270267 Watertite, Latex Mold & Mildew Proof Waterproofing Paint
If you want something that creates a waterproof seal and protects the surface from mildew, consider this offering from Zinsser and Co.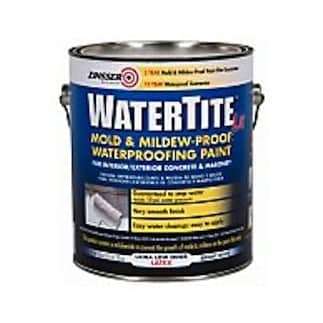 To begin with, the coating that it leaves is non-gritty. That means it will not ruin the decorative nature of your basement and make it look like a mess. Also, it holds the ability to create a strong waterproof barrier.
On that note, it can resist up to 20 PSI of water pressure. Now, that is pretty uncommon among the rest of the available offerings. Also, the application process is pretty easy.
Alongside that, it holds the power to resist molds and mildew from the surface. That enhances the overall lifespan. The rated lifespan is about 15 years, which is pretty impressive.
Pros
Leaves a non-gritty finish
Creates a strong waterproof barrier
Capable of resisting 20 PSI water pressure
Easy to apply
Has an incredibly long lifespan
Cons
Tends to get pretty hard if left open
Might ship in a damaged container
Why Should You Purchase This Product?
This offering does not only create a waterproof barrier but also can resist molds and mildew. Also, the finish it leaves is non-gritty, which is always a good thing.
6. AMES BWRF5 Water Base High Strength Elastomeric Liquid Rubber
Although a couple of options can create a strong seal on the basement surfaces, only a few can resist high water pressure. And this one from AMES is one of those few.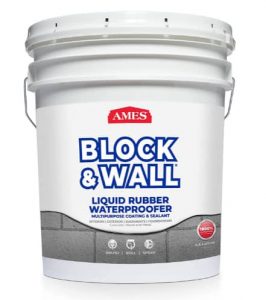 As we mentioned, it can resist water pressure of up to 250 PSI. That means even if there is a water source located close to the basement floor, none of the water will be able to penetrate through the walls.
Aside from that, the formula is water-based. That means the VOC level is close to zero. Also, the formula does not contain any harmful elements, which will make it skin-friendly. And the odor is pretty low too.
Talking of which, as the formula is water-based, the application process will be easy too.
Pros
Can handle up to 250 PSI water pressure
Water-based and non-toxic
Has low odor
Skin-friendly
Easy to apply
Cons
Comes in a sub-par packaging
Takes a good amount of time to dry up
Why Should You Purchase This Product?
This one is water-based and does not contain any harmful elements. Also, the VOC level is low, and it can resist up to 250 PSI of water pressure.
7. Drylok-28613 Extreme Latex Masonry Waterproofer Smooth Finish
One thing that is quite sub-par about most options out in the market is meeting the VOC requirements. However, that is simply not the case for this offering.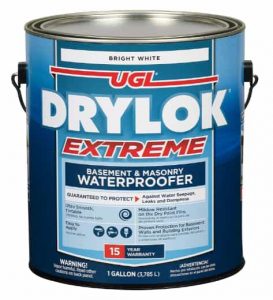 First of all, it can withstand 15 pounds of hydrostatic pressure. That is equivalent to about a wall of water that is 33 feet high. So, you will not have to worry a bit about the seal it is going to create.
It even holds the ability to protect the basement from radon gas penetration. It will reduce the vapor transfer level substantially too. Also, the formula has a low odor and meets all of the VOC requirements of the industry.
Apart from the low odor, it is long-lasting. You will not have to go through the hassle of scraping and recoating the basement with this one.
Pros
Can withstand 15 pounds of hydrostatic pressure
Protects against radon gas
Reduces vapor transfer levels
Meets the VOC requirements
Long-lasting
Cons
Might be a bit too sticky if left open
Container is prone to leaking
Why Should You Purchase This Product?
It meets all the current VOC requirements. Also, it lasts for a long amount of time and offers proper protection from water and radon gas.
Things to Consider When Buying Basement Waterproofing Paints
Before you decide to spend your precious money on one of these options, you need to consider a couple of important things. And they are:
Formula
There are basically two types of formula. One is water-based, and the other is solvent-based. Our recommendation would be to pick the water-based ones because they are usually environment-friendly. Additionally, they are easier to work with.
Curing Time
Not all of the formulas dry to the touch instantly. Some even require days. And the ones that do require days to cure will be hard to work with because you will need to wait for a reasonable amount of time before applying a second or third coat.
Water Pressure Resistance
It is pretty important to factor in the water pressure resistance rating. The higher the rating, the better. If you end up purchasing something that has a comparatively low water pressure rating, you might find the basement wall soaking up leaking water in about a couple of months.
Spread Rating
Another rating that is pretty important for these is the spread rating. You will need to use a couple of tubs for covering the entire basement if you get something that has a relatively low spread rate.
Lifespan
You should also prioritize the lifespan of the paints. It would not be a good decision to opt for something that has a relatively low lifespan. With those, you will find yourself repainting the entire basement quite often.
Odor
You do not want the basement to smell like a chemical mess, would you? For that reason, we recommend opting for something that has a low level of odor. Also, the ones that have low odor tend to have no harmful elements as well.
Application Process
Finally, consider the application process. The easier the application process, the less the number of hassles you would have to go through. Also, usually, the ones that are easier to apply will not require any mixing either.
Read Next:
Frequently Asked Question
How much waterproof seal do I need for my basement?
That will depend on the size of the basement and the spread rating of the formula. The smaller the size and higher the spread rating, the less amount of sealer you will need.
Are all waterproof sealers odor-free?
Not really. Even the ones that are environment-friendly will have a small amount of odor.
Do water-based sealers have VOC?
Usually, the water-based sealers will not contain VOC. Some will not even have any harmful elements.
How much time does waterproofing paint take to cure?
It will depend on the formula. Some will dry up within four hours, while some will take up to four to five days to properly cure.
Can I re-coat the waterproofing paint before it cures?
No! You should not apply a second coating before the previous coating cures or dries up completely. For best results, wait a little longer than the recommended time and apply the second coat.
Final Words
Getting one of the top-rated basement waterproofing paint options is not that easy, considering that there are way too many offerings out there. But we do hope that we were capable of making the choosing process a bit easier for you.