Apart from basic colors, beige paint color is one of the most desired colors for painting. But achieving this color is a bit tricky and difficult. Since it is a mixture of both primary and secondary colors, it may fail if the color amount is not accurate. Hence, people often look for the answer to how to make beige paint.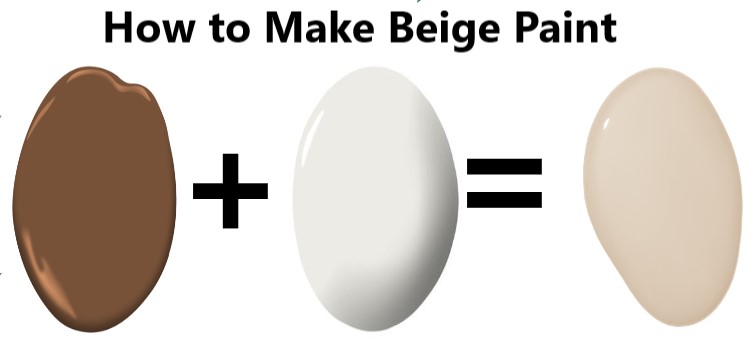 The creation of beige color has several steps. But what is more important is that it requires the proper mixture of some certain and necessary colors. This is the knowledge that should be obtained by all artists or painters out there.
So, let's get to the detail about how you will make beige paint and what colors will you mix for it.
What Colors Make Beige?
Beige color paint is one of the most neutral and classic paint colors. This color is great for an excellent backdrop and can coordinate with any color. Beige is also called a cream color.
It comes with versatile shades obtaining different purposes. However, there are initially two different colors that can make beige paint. They are white and yellow. Also, coffee or brown color can make beige by mixing with white color.
What Two Colors Make Beige Color Paint?
If you know color mixing for making secondary colors or even tertiary colors, then this might be easy for you to make the brown color.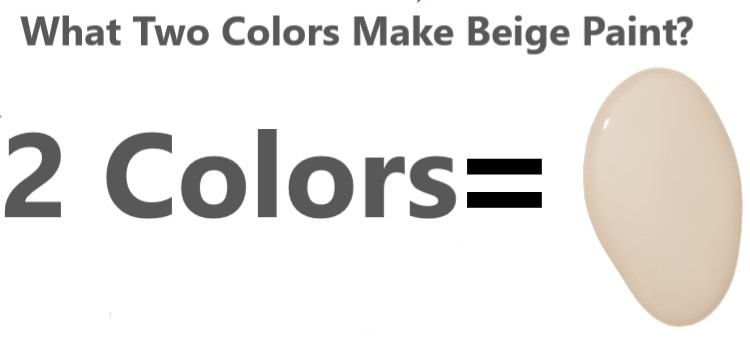 Mix white color with your produced brown color. The accurate combination of these two colors will bring a hue of light brown. It is a shade of beige. Otherwise, it will overcome the base color resulting in an unexpected color.
White paint should be the base color. Take the pure white color and then add yellow paint only one drop. Now, mix them. The hue of yellow paint will turn the base white color into creamy or beige color
There is another way to make beige paint. You can use the white paint as a base again and mix it with brown and light-yellow colors. Make sure you take small quantities of them. Here, the yellow color will add brightness to the beige.
Moreover, beige color can also be obtained with a combination of white, yellow, or gray. If you mix these colors properly you can get beige color paint.
How to Make Beige Paint Step-by-Step Guide
There are many ways you can make beige paint including tempera, dyes, toners, or acrylic. Let's get to their step-by-step process.
Making Beige with Tempera Paint
Tempera is one of the different paints that can be used for making beige. Since it is the most popular one yet inexpensive, it is easily available as well. So, the following steps provide a process to make beige paint with tempera.
Step 1: Get a White Paint Base
This is the first and foremost thing to do when you are up to make beige paint or any tertiary color. Especially in this process, among all other color options, the white color is the most needed one.
Step 2: Add Temperas
Now, it is time to add the temperas. You can take either yellow or brown for this purpose. Pick brown as an option. Depending on your desired shade, you can use this color. In the case of these temperas, use a palette if they come in tubes. If they come in bottles, then use them with brushes.
Make sure you use separate brushes for each bottle. Otherwise, the stained brush will only make a mess. It is better if you apply or spray a little water on the brushes. It will allow you to get the right amount of paint on the brush.
Step 3: Mix the Colors
Now, grab another brush without any stains, to mix the paints. Mix them well until your desired homogeneous beige shade of color appears.
Tips to Consider:
Since tempera paints vary the color after its drying, you can also make a way through them. Just wet the brush again before using it again on the paint. Creating a new mixture, they also change the creamy tone of the color beige. If you look carefully, you will see it's different than before.
Read Next: Guide on Making DIY Magenta Paints
Making Beige with Dyes or Toners
This method is mostly used to have a beige or creamy wall. Using dyes or toners to make beige paint is another way you can pursue it. Toners that are used for this purpose can tint paints like vinyl, plastic, latex, water, or acrylic. To have the perfect beige color, follow the steps we are recommending below.
Step 1: First, White Paint the Base
As usual, this is the first thing to grab when you are up to make beige paint.
Step 2: Add the Only 30cc of Yellow Dye per Liter of White Paint
With a liter of white paint, mix only 30 cubic centimeters of yellow dye. This amount is enough to get a beige color. If you require twice the paint, then add 60cc of yellow dye with two liters of white paint.
Step 3: Mix the Paints
Now, lastly, grab a paint mixture and mix the paints well. Keep mixing the paints until the dye dissolves properly in the white base and creates a cream color for beige paint. This way you have great beige paint.
Tips to Consider:
On the white base, you can maximum add 60cc of the stain that you have selected with a liter of white paint. If you add more cubic centimeters than this amount, it will surely lose its glueyness. As a result, it won't remain on several surfaces. Consequently, it will not dissolve properly and produce dye stains on the walls.
Read Next: How to make skin color paint at home
Making Beige Paint with Acrylic Paint
Acrylic paints can also help you to make beige paint since they are popular among painters and crafters. Also, their easy cleanup and fast-drying formula are ideal for making beige paints. Therefore, the attempt of making beige color with acrylics is worth it when you follow the steps below.
Step 1: Go for an All-white Paint
To work with acrylic to make beige paint, first, you need to go for all-white paint. It will be the base color for this process. This kind of paint is also known as pure white. So, check the label carefully before you buy them.
Step 2: Add a Line of Yellow or Brown Paint
Now on a palette or canvas, draw a line of white paint according to your crafting or drawing requirement. Make sure the line is wide. Then on its sides, again add another line of the paint light yellow. Do not take more than two drops. One drop only can also work. Make sure this time the line is comparatively small and fine.
Adding brown paint instead of yellow can also be done optionally. But in this case, do not use more than one drop. Make a fine line with only one drop of brown paint.
Step 3: Mix All the Paint
Grab a brush and mix all the added paint. When you get the beige color, stop mixing.
Tips to Consider:
The tone or shade of the beige paint color highly depends on the paint quantities you are adding to the pure white. So, be careful about the drops you are using for yellow or brown color. However, with the proper quantity, you can ensure a certain tone of beige paint.
Read Next: How to make black paint at home
What Colors Make Creamy Beige?
This is the almost same way to make beige paint. Add a very small amount of brown color to the white base. Make sure the brown is not equal, to or more than the white paint. Adding brown color should bring a creamy appearance.
But if not, add a little red or yellow, or orange to boost the mixture. You can add yellow and red at the same time but in a tiny amount. Mixing Naples yellow, raw sienna, or yellow ocher can also improve the result.
Make Beige Paint Darker:
Many want to make a dark beige paint color. Well, we have already told you the way how you can make beige paint darker. You can achieve it by mixing brown paint with a white base.
This brown color creates a contrast to both yellow and white base colors. It is because it produces a darker shade. So, as per your wish, you can make the color deep or light-dark by adding more or less brown color respectively.
Make Beige Paint Lighter:
Most people prefer lighter beige paint colors. Well, you can easily achieve a light shade of beige or cream color if you only use the yellow color with the base paint.
However, it is way better if you go for the light-yellow one. Otherwise, it will create creamy color but it won't be an entirely lighter one. It is great that the white base paint contributes a lot to lightening the beige paint. It makes the process way easier.
So, with the white base, if you mix a small amount of light-yellow color, then you can get the light hue you want. Nonetheless, adjusting the colors to make beige paint is an important thing and you just cannot avoid it.
However, there are some colors including champagne color, ivory color, and off-white color, that start from being beige paint and become lighter in color.
Final Words
So, now you know that making beige paint is not that tough if you add decent amounts of particular colors. Like any other color, beige paint color also comes with a wider range of shades and tones. You can also achieve any of them if you follow the guide, we have given above.
Achieving the right shade is a bit tricky and unless you are a crafter or painter, your sense might not work on this purpose. Yet, you can develop this skill after some practice. So, do experiments and create your favorite beige color shades.